IQ832NE-W2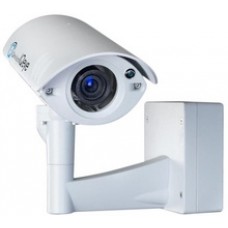 Производител:
IQinVision
Шифра:
IQ832NE-W2
Достапност:
На залиха
Цена: 0.00ден
без ДДВ: 0.00ден
IQ832NE-W2 Sentinel H.264 Day/Night Camera, Ultra Wide Varifocal Day/Night Lens

IqinVision Sentinel H.264 Day/Night Camera, Ultra Wide Varifocal Day/Night Lens - IQ832NE-W2

The IQeye Sentinel Series is an All-Weather Megapixel Network Camera that is entirely Power-over-Ethernet, featuring an integrated, vandal and tamper-resistant design. Sentinel?s exclusive pivoting arm allows you to use the same camera for wall, ceiling or parapet mounting with no additional hardware. The entire unit is designed to withstand the harshest weather conditions, including hot, cold and wet environments.

This indoor/outdoor surveillance camera is available in HD1080p H.264 and 1.3, 2.0, 3.1 and 5.0 megapixel MJPEG models, standard or day/night, with a variety of quality megapixel lens options so you can cover any application. Its fully-integrated IP66 housing is attractive and can withstand a wide temperature range, making it suitable for even the harshest climates.

HD1080p H.264 Models

Standard and Day/Night models use MAIN profile H.264 for spectacular high-definition video with less bandwidth and storage and deliver full resolution at full frame rate.

IQeye Event Recording System (ERS)

The IQeye Event Recording System (ERS) is a selfcontained High-Definition megapixel network recorder that uses NO BANDWDITH to record crisp, clear video, making it perfect for installations where network bandwidth is a premium.

Pole Mount Adapter

This exclusive pole mount adapter allows you to mount IQeye Sentinel weatherproof security cameras to any pole with a diameter of 4 to 14 inches. It?s easy to install and includes all necessary mounting hardware.

Junction Box Cover

The junction box cover allows you to install the camera back box and IQeye Sentinel weatherproof surveillance camera separately while preserving the junction box electronics. The cover matches the junction box exactly and can be re-used on multiple outdoor security camera installations.

Features:

Dual Stream H.264 & MJPEG
H.264 HD1080p (1920x1080) @ 30 fps
IP66 / NEMA 4 / NEMA 3R
-22°F/-30°C to 122°F/50°C
MJPEG 1.3 MP @ 30 fps
MJPEG 2.0 MP @ 20 fps
MJPEG 3.1 MP @ 12 fps
MJPEG 5.0 MP @ 10 fps
< 0.05 lux IR Sensitive (Day/Night Series)
MultiStream Low BW + Hi Resolution
Video Port for Focusing
LIGHTGRABBER II Low-light Feature
Digital Image Cropping & PTZ (Select Models)
Alarm I/O
<7 watts Power-over-Ethernet, AC or DC
Include/Exclude Exposure Window, Privacy Zones (Select Models)
Напиши преглед
Вашето име:
Вашиот преглед:
Забелешка: HTML не е дозволен!
Рејтинг:
Лош
Добар
Внесете го кодот во полето подолу: